NOTE: In an effort to keep teacher to student ratios high, we limit the number of participants and the workshop is now full up. Registration is closed for this year. Please look for our workshop next winter and enjoy the snow in the meantime.
Join us for two nights of cross-country ski instruction within 15 minutes of downtown Boston. This workshop is for beginner to advanced beginner cross-country skiers. Taught by experienced volunteers from the Appalachian Mountain Club's ski committee, you should take this workshop if you have:
* Never put on a pair of skis in your life
* Downhill skied and now want to learn cross country
* Some cross country ski experience but still not completely comfortable
* Comfortable on flats, but need help on hills and a more efficient stride
If any of those describe you, sign up and we'll help you get out and enjoy the snow.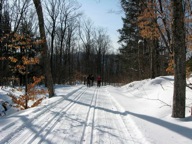 Workshop Details
The workshops happen on two Wednesday nights at the Weston Ski Track which is about 15 minutes outside of Boston on I-90. They make snow, so there is almost guaranteed to be snow for the workshop even if no natural snow has fallen recently.
This workshop will also help prepare you for some of the more advanced ski workshops we offer, such as the annual Cardigan Ski Weekend.
Dates:
Wednesday, January 27 from 7 - 9 pm
Wednesday, February 3 from 7 - 9 pm
Rain date: February 10 from 7 - 9 pm (if one of the above has to be cancelled on account of weather)
You can take either night separately, or come for both nights and get a discount.
Cost: $22 per night, or $40 for both nights
Refunds: If your plans change and you cannot make the workshop after you signed up, we can give refunds until Jan. 10. After that, we cannot give refunds because we will have made too many arrangements based on numbers of people anticipated.
Poor Weather: On the small chance of heavy rain or a stretch of unseasonably warm temperatures so that Weston can't make snow, we will have a workshop on our rain-date of February 10. We'll inform you if needed via email, and will also post a notice on this website. We would prefer not to issue refunds because it adds work for us volunteers, and because we will have paid many of the expenses by then, but if you absolutely cannot make the rain-date and need a refund you should let us know right away after the workshop has been cancelled. If we don't hear by two days after the cancelled workshop we'll assume you are coming to the rain date.
Ski Rental: Ski rentals are available directly from the Weston Ski Track for an additional cost of around $15. Please plan to arrive a 1/2 hour early if you plan to rent skis.
Children: Because children and adults tend to learn a little differently, we ask that workshop participants be 16 years or older.
For other questions, write the workshop leader Eli at
elimeir00@yahoo.com
.
Sign Up
Use the menus on the right to sign up. If you would rather send a check, please send a letter with your name, email address, workshop night(s), and current ski experience to:
Eli Meir
28 Constitution Rd.
Charlestown, MA 02129
Check should be for $22 for one night ($40 for both nights) and made out to Eli Meir.
Look forward to seeing you on the snow in a few short weeks.